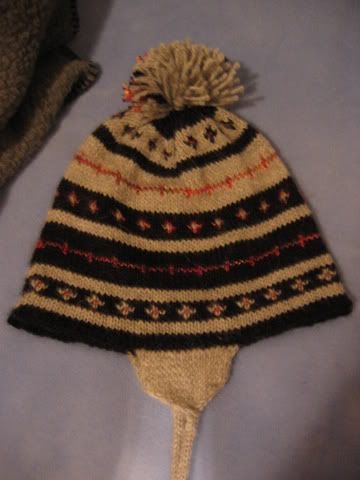 See, I even added a pom-pom! (I, too, have a problem with "pom-pon," and so I add an m at the end. If that's wrong, I don't want to be right!)

At first I thought it would be too tight, not so much that if I put it on it would never come off, but if I put it on, what little effort I put into my hair would be for naught. Blocking completely solved that problem! A bit of a drenching and some pins, et voila! Hat that pops right on and right off the ol' bean.

I am still not entirely sure how I ended up with a hat in black (normal for Holly), gray (normal for Holly), and red-pink (WTF, captain?). I think it's because the red-pink yarn (it's kind of variegated, very shimmery, and completely impossible for a camera-ignoramus like me to photograph properly) both seduced me with its shinyness and its convenient availability in the ol' stash, right on top. And, I have no blue yarn. Which is heinous. I don't know how that happened, but I have no blue yarn (except for two skeins of some crazy Fun Fur that I don't know what to do with). Must remedy.

In other yarn-tastic news, the yarn for Vigdis has shipped! I decided to go with a yarn called Nova, from Sirdar, in a color that I hope will be a nice, soft light brown, like the color of dry wood. I have little faith in my monitor's ability to show color properly, especially looking at that picture of the hat (the gray is not very gray at all, though I think I'm blaming that one on the camera and the operator of said camera). At any rate, as long as color #890 isn't orange or yellow, we're in business. The most beautiful thing: Nova was on sale (in the discontinued yarn bin) at Carodan Farm. That place, it is magic: friendly, affordable, nice selection even when the yarn is way cheap. I got the yarn to knit Cleo (from Knitty, Summer '03, picture to be in FO's eventually) from them, too, also on sale. (As someone living on a TA stipend, there is no yarn but yarn on sale.)


In the stash, I had 5 balls of Plymouth Turino Silk in color 07 (a tweedy gray flecked with black) that I bought at a yarn store in Cumberland, MD, a year ago, that I had no idea what to do with. So I searched and searched until I remembered the Shapely Tank Top pattern from White Lies Designs. I check the yardage, swatch away, and booya! I have a home for my yarn. I'm interested to see how that turns out. Progress to come as soon as there's more than a few rows of garter stitch, yeah?