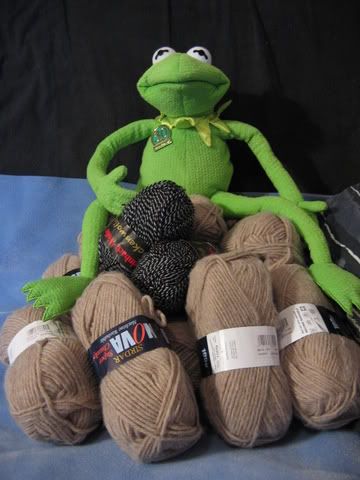 Kermit, who has a lovely singing voice, is displaying the new yarns! That's 11 skeins of Nova, color 890, and 2 skeins of Sockenwolle, color 190. I wish I had some knitting progress to show, but I don't. I did cast on and knit the first 13 rows of Vigdis, but I didn't like the tension (cast-on was too loose, actually, and looked ridiculous underneath all of those lovely cables), so I frogged it.

I'm actually thinking of monkeying around with the gauge (probably a mistake); I'm not sure I really want my Vigdis to be as bulky as its measurements claim it will be. I'm thinking of this as more of a spring/fall coat than a couch-cozy (I have a polarfleece body bag/Penguin Wuzzie for that). I might jump down a needle size. I also want to exchange the pullover for the zippered on/off, which requires that I squirrel around with the whole front of the pattern. What I thought I would do is omit the big cable (that would be identical to the back of Vigdis) and substitute running S-hitches and put the zipper between them. Since there isn't a whole lot of body shaping going on, I'm hoping there will be little bloodshed involved.

In Shapely-Tank land, knitting is progressing. I'm not sure what to make of Turino Silk. I don't think I like it, actually, and that rather makes me sad. I do know that knitting with that yarn is absolute hell on my shoulder and wrists. Why is this? It's knitting up at the appropriate gauge, it's not actually that tight on the needles, but working with it is just sucking the life right out of me. But I want that tank-top, dammit, so I'm sticking with it. The best part of this yarn is that it's nearly impossible to split (that doesn't mean I haven't, but not often).

Does anyone ever find that the colors you most like to wear are the colors you least like to knit with? I'm a black/gray/blue girl (and I've never had a chance to knit anything blue! It's criminal! ...this is mostly because there are certain blues that are not okay, and I don't trust my computer's ability to show me the color of blue the yarn would actually be--it's too risky), but knitting with the gray Turino is dreadfully dull. I really love working with the pastel Venezia (A Little Lace, in the sidebar), but I will not wear those colors. That absolutely must be a gift. *shudder* They're very Easter-eggy. The lovely Nova yarn, which is a touch warmer in person than in the photo above, will be just right for a spring/fall warm cozy that I will love. But I think that knitting that much beige may just kill me. Black yarn makes me buggy-eyed. But that's my favorite color of all to wear!

Why must I be so perverse?