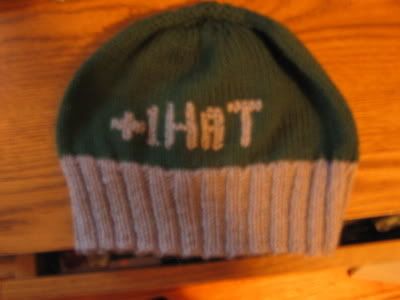 I finished the +1 Hat for my friend (my pseudo-Olympic knitting) last weekend. It's taken me more than a week to photograph it, but hopefully I'll get it to the P.O. bythe end of the week.

Perhaps it's in tribute to the late, great Don Knotts that my camera hand is indeed like The Shakiest Gun in the West. Blur-tastic, so my photos are.

It's knit in Debbie Bliss Cashmerino Aran...curses to the yardage on those wee balls, curses! The gray bits are Andean Silk from Knitpicks.

Life is settling down a little bit now--only two more rounds of student conferences to go before Spring Break. And boy am I ever ready for Spring Break--heading to Georgia for a few days to visit with family. I have to start a set of socks or something so I have suitable travel knitting. Vigdis is a bit too fiddly for me to want to travel with cable needle and book and post-it notes and extra balls of yarn and such. Socks travel most easily. Of course, I also have to read Leslie Marmon Silko's Almanac of the Dead

,

which is nearly 800 pages of "you don't have time to knit," and grade 40 creative writing portfolios in that week, too. This being a full-time student and a full-time teacher at the same time is a bit ridiculous.