She just hasn't been doing anything else. Well, she has been playing We Love Katamari, too (for the PlayStation 2), thanks to an excellent friend who probably finds it amusing that the game has eaten my life. The good thing is that too much video games = buggy eyes, so I have to take breaks to knit because things don't swirl or flash while I'm knitting. Usually. So I do have some progress to show y'all!

Right there is the back of Vigdis, all finished (except the ends-weaving, of course) in all its cozy glory. It's almost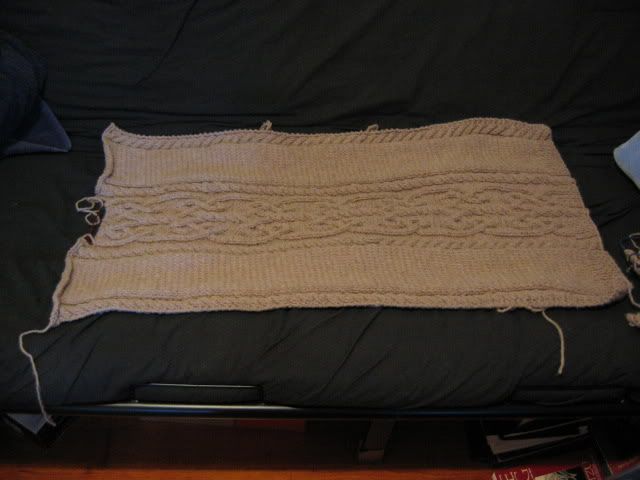 4 feet long, so finishing that up two nights ago (it's been between 85 & 95 degrees here since Memorial weekend) was warm work. Then again, before this week, I think the last time that I was warm was probably the previous August (the week before our wedding was particularly sticky). So I'm not really complaining.

Below: A little close-up action.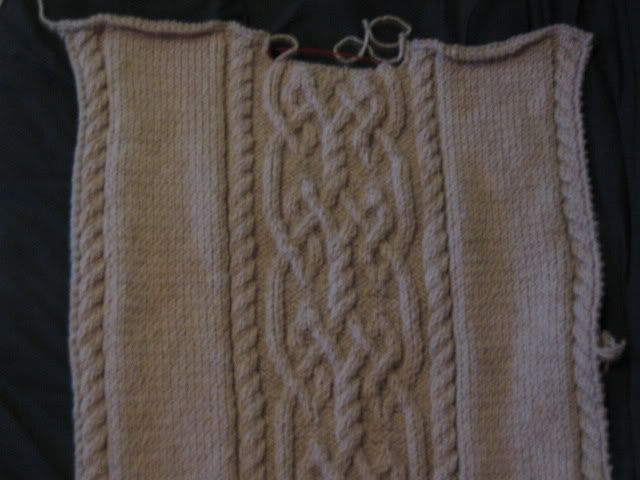 Since the back is finished and I was feeling brave, I decided to cast on for the left front panel of Vigdis. Except, you see, there is no left front panel for Vigdis. The pattern is a pullover. But I don't like pullovers, especially not one so long as this will be. I'm taking that cliched ol' bull by the horns and making my own front (I have never done such a thing before--sure, I whacked out an ice-cream pint cozy without a pattern a few months ago, but that took all of an hour and a half. This will take me weeks, and it's Important Knitting.). Own front means changing the knotwork, too, so I'm using a narrower set of S-hitches that will face each other over a button band. Thusly: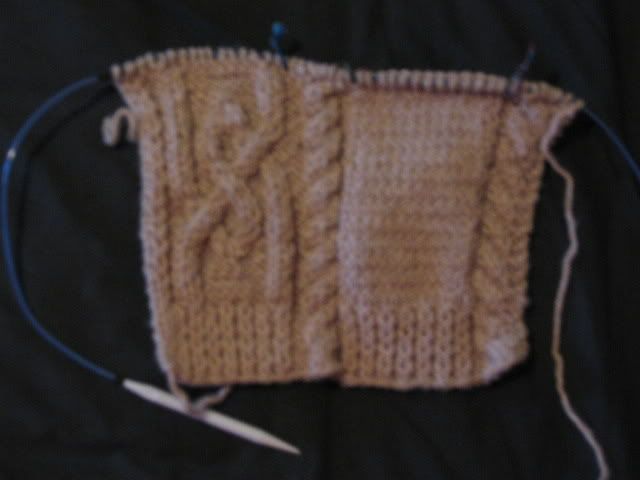 I've also decided that I need a sock on the needles, too, so I started up a regular old sock, toe-up, as described in the previous post, and I'm using a little yarnover lace pattern on the top of the foot and up the leg (when I get to the fabled leg, of course. The sock-knitting, when compared to my tunic sweater on US 11s, she is the slow.). The sock, in homage to the Yarn Harlot and the Sock of Fame, here poses with the always-lovely Holly Golightly. It's hard to photograph a black sock.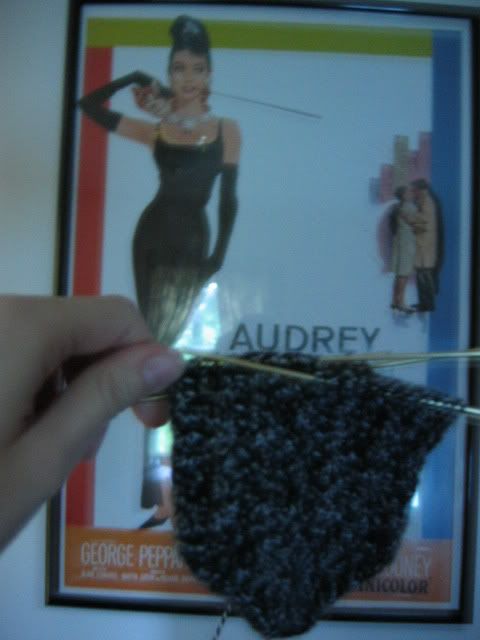 Can't see the pattern for anything, but I'll try another background when there's more progress. Probably a picture of me wearing the sock over a white sock so you can see the holey bits.

Just before Memorial Day I finished the Venezia "A Little Lace" pattern and gave the scarf to my mum (a late Mother's Day gift). Sadly, I gave it away before I took the picture, but you can imagine. It's just longer than the half-knit piece in the picture on the sidebar. You have good imaginations. I know you can do it.

In spinning news, I'm nearing the end of my Hello Yarn roving, and am preparing to break into the gorgeous fluff I got at Rhinebeck last fall. For that, I was hoping to have a spinning wheel, but alas, with renovations happening all over this house, there's no wheel in my near future. I am compromising with a featherweight drop spindle because I want some laceweight yarn from that lovely fluff I bought. (Pictures coming soon, promise.) What spindle? I'm really hoping for a Cascade spindle, the Shasta. Why hoping, you say? Because my birthday was 2 months ago, and in true form, my brother just asked me what I want(ed) for my birthday. What he wanted was a list from Cabela's (the camping/hunting/fishing outfitters)--he didn't "like" my Amazon wishlist (our family does this: "I don't like what's on your list. What else do you want?"). So I put together a list from Cabela's of things I wouldn't mind having (like a headlamp for knitting in dim places! one of those neat thermometers with a cord like Alton Brown uses!), but I also sent him a link to the Bellweather's list of Cascade spindles. With a note (and a phonecall) that said spindle was what I

really

wanted. I don't know what he decided yet. I'm hoping it's the spindle; otherwise, I'll place the order myself and that will inevitably include more fiber or some other bits of sheepy goodness that I ought not get right now.

And his birthday is in a week. I have no idea what to get him. I'd like to take him to a Binghamton Mets game & out for some excellent food, but the odds of getting him the 180 miles north to Bingo aren't good. Any suggestions for a late twenty-something who doesn't read much, not very into music, has given up collecting movies in favor of rental, and hasn't got much in the way of hobbies? He golfs and fishes, but he's got all the equipment he needs for those things.