Apparently, I might still live. My spot on the Ravelry queue came up! So, you can find me over there as Sheffiesheep.

I'm still stalling out on the Vigdis, waiting for some mental quiet-time for the Adamas shawl, have knit and frogged the same sock-toe four times because I keep forgetting where I am and how many decreases I've done--but I'm also doing some seekrit knitting that I quite love. Photos when I finish and the recipient receives it.

I've got some of that midnight blue fiber (from Sinclair's introductory post) on the wheel just now, and it's quite lovely.

I like the slipperyness of the tencel. I've been spinning up a spool of that, and then a spool of some beautiful HelloYarn Bluefaced Leicester--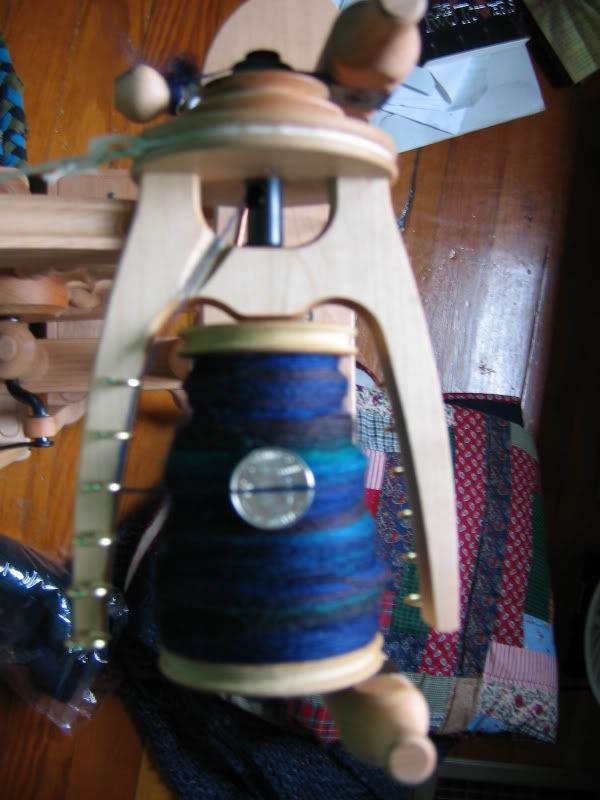 not to ply them together or anything, but because I love how different each of them is to spin.
The BFL is so

easy

and solid and richly colored--I've been plying it up Navajo-ply so that the colors stay separate. I don't know what my final plans for the BFL will be. Maybe a hat, so I can take advantage of it's woolly goodness and the color changes. It might be something I can practice knitting a liner on, too, because I'm particular about my head and how much woollyness it can manage. We'll see. At the rate I'm going, this may not be an issue until I move somewhere too warm to have winter hats.