Santa Cruz
, by Sarah-Hope Parmeter, from Magknits.
Knit on size 7s, according to the worsted pattern. It fits very close (because my yarn is my own handspun and is very approximate worsted--I probably could have used the DK pattern and had a denser hat), but I like it. My plan is to wear it during the day at school after I've had to walk into campus wearing my chullo (i.e. after any lame attempt to style my hair is utterly ruined).
Yarn fiber is HelloYarn BFL, colorway Glas. It makes me so, so happy. I spun it on my Ashford Traveler, then Navajo-plied it to preserve the color-changes. The colors are so saturated, so dark, it sort of muddies if you barber-pole it. My photography isn't the best, but it's a mix of rich blue-greens, blue-purple, and small bits of black and brown.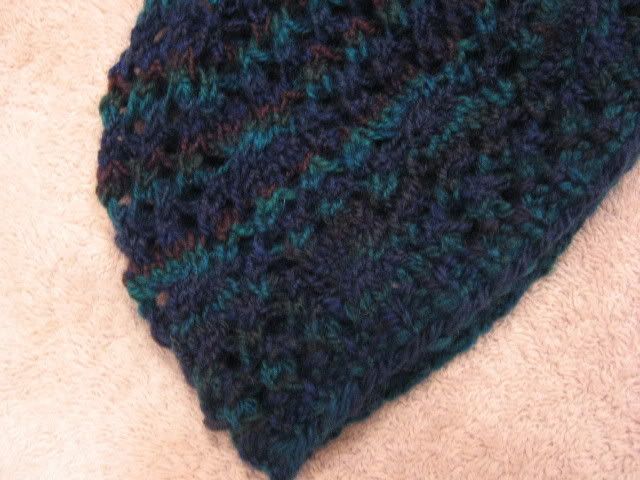 It is, all things considered, the most perfectly me colorway I've ever seen. AND I have a whole bunch left! This only used about half of one of the balls I've spun (I get about 125 yards of finished yarn out of a full bobbin of singles). So...maybe matching wristlets or something. I think I'd do those on size 5 needles, though.
Great knit. Quick, satisfying, and near-instant gratification, which makes me happy after so much languishing over UFOs.
Dude. Your English teacher looks like a thug.